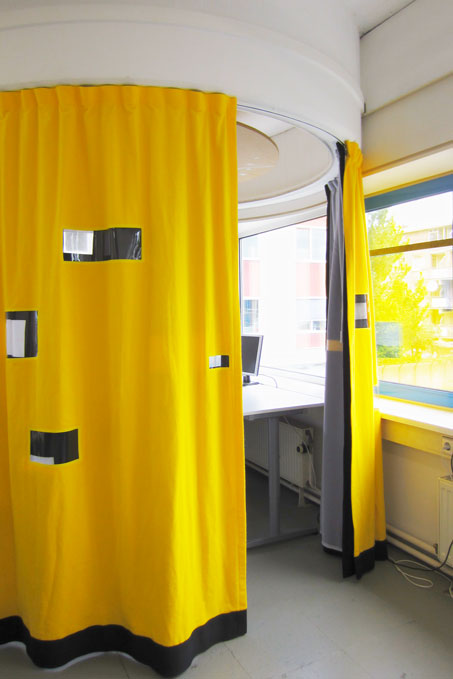 Kimik Design Gordijn
No.18

Circulair

Akoestisch
Geel
Licht naar binnen
Zicht naar buiten.
Grijs gaas & Linen,
Zwart keperband aIs detail...

Kimik ontwerpt een maakt originele gordijnen voor jouw ruimte.

De ontwerpen worden gemaakt in overleg,
met een originele twist die jouw gordijnen uniek maken.

Neem contact met ons op voor een eigen ontwerp
of voor meer informatie!
Kimik Design Gordijn No.18 Circulair en akoestisch absorberend in zonnig geel
Kimik Design Curtain No.18 Circular Sunny Acoustic
The circular curtain creates a sound absorbing workspace, beautifully following the circle created by former twirling stairs
The curtain has been made of three layers and has scattered windows that let the light go through
The bright yellow molton is on the outside, absorbing outer sounds, a black acoustic molton on the inside, with a polyurethane coating so the fabric does not only absorb but also blocks the sound on the inside of the curtain
The black layer is softened with a white voile, giving it a soft grey tone and creating a three-dimensional effect with the light from the windows coming through

Kimik designs and creates custom made curtains for your space

The designs are made with your ideas in mind
adding a creative touch that makes them unique

Please contact us if you would like a custom design
or if you would like some more information!